ebikes780 · Promoting Cool E-Bikes in Edmonton
Hello! Do you like the idea of riding nice-looking e-bikes, in the city and on trails, transporting them in your car, and not paying ridiculous prices?
Meet the 20-inch-folding-fat-tire-e-bikes we purchased in May 2019 from Changzhou RISTAR Cycle Co., LTD via Alibaba (bike type RSD-507):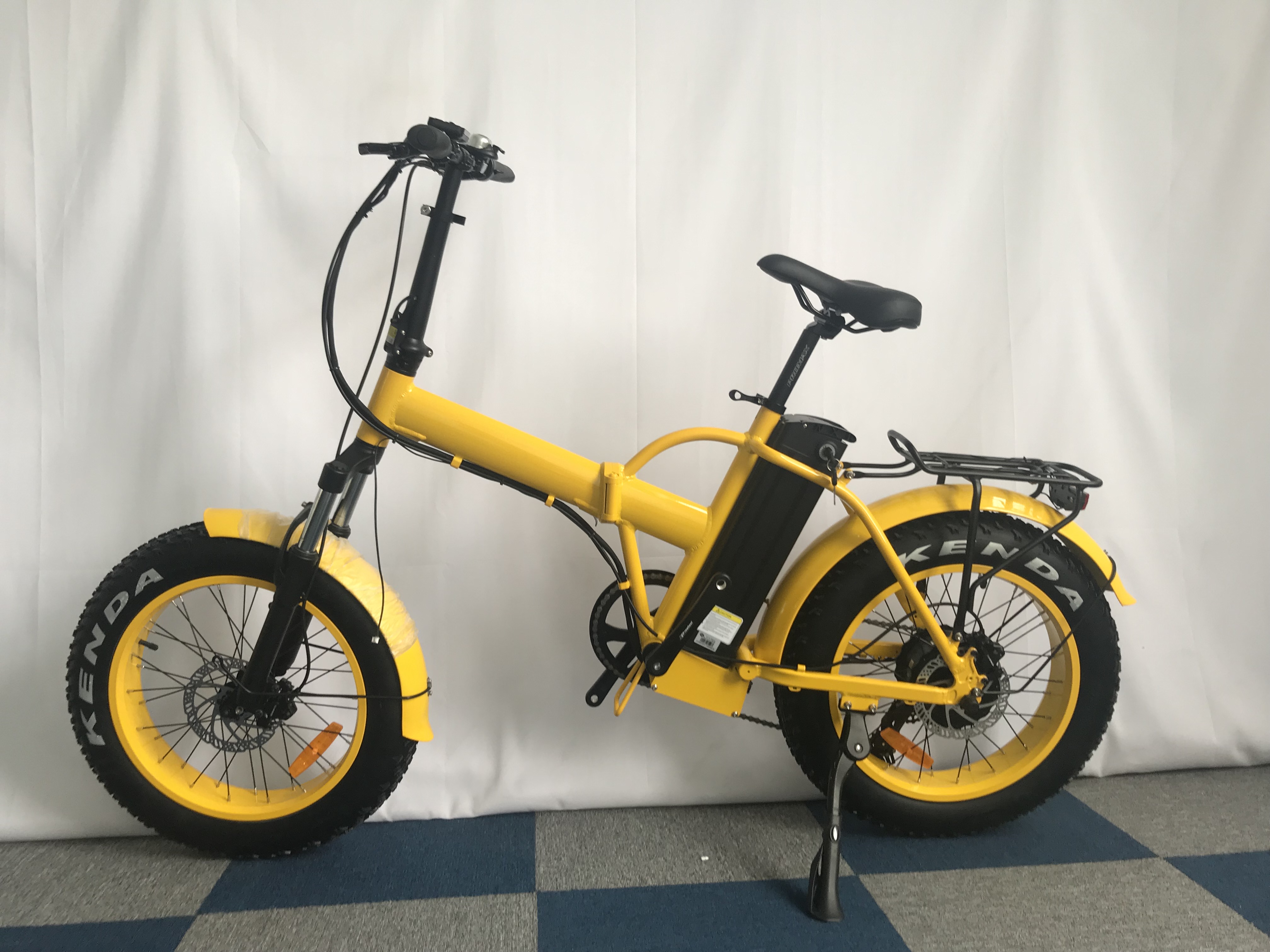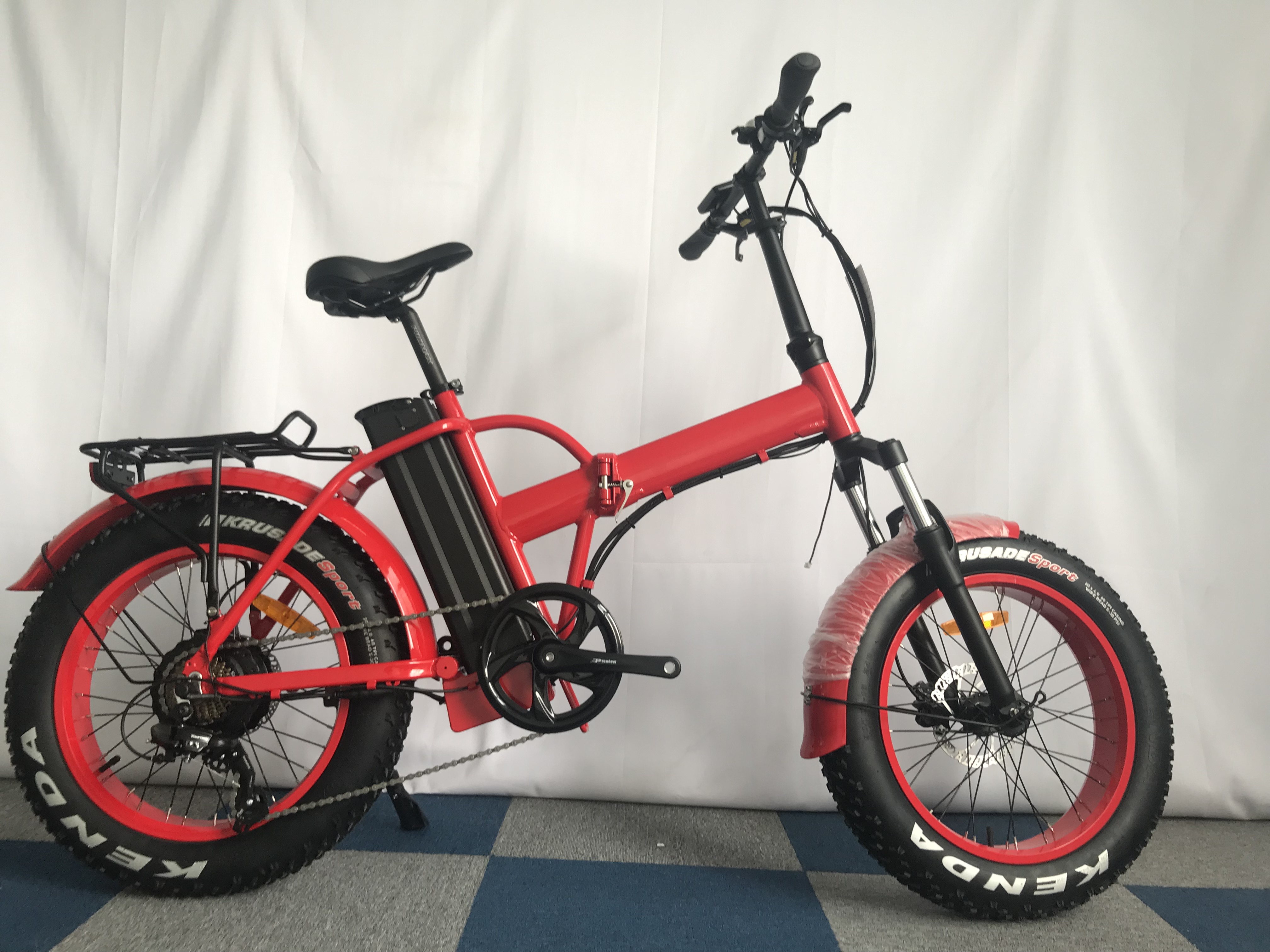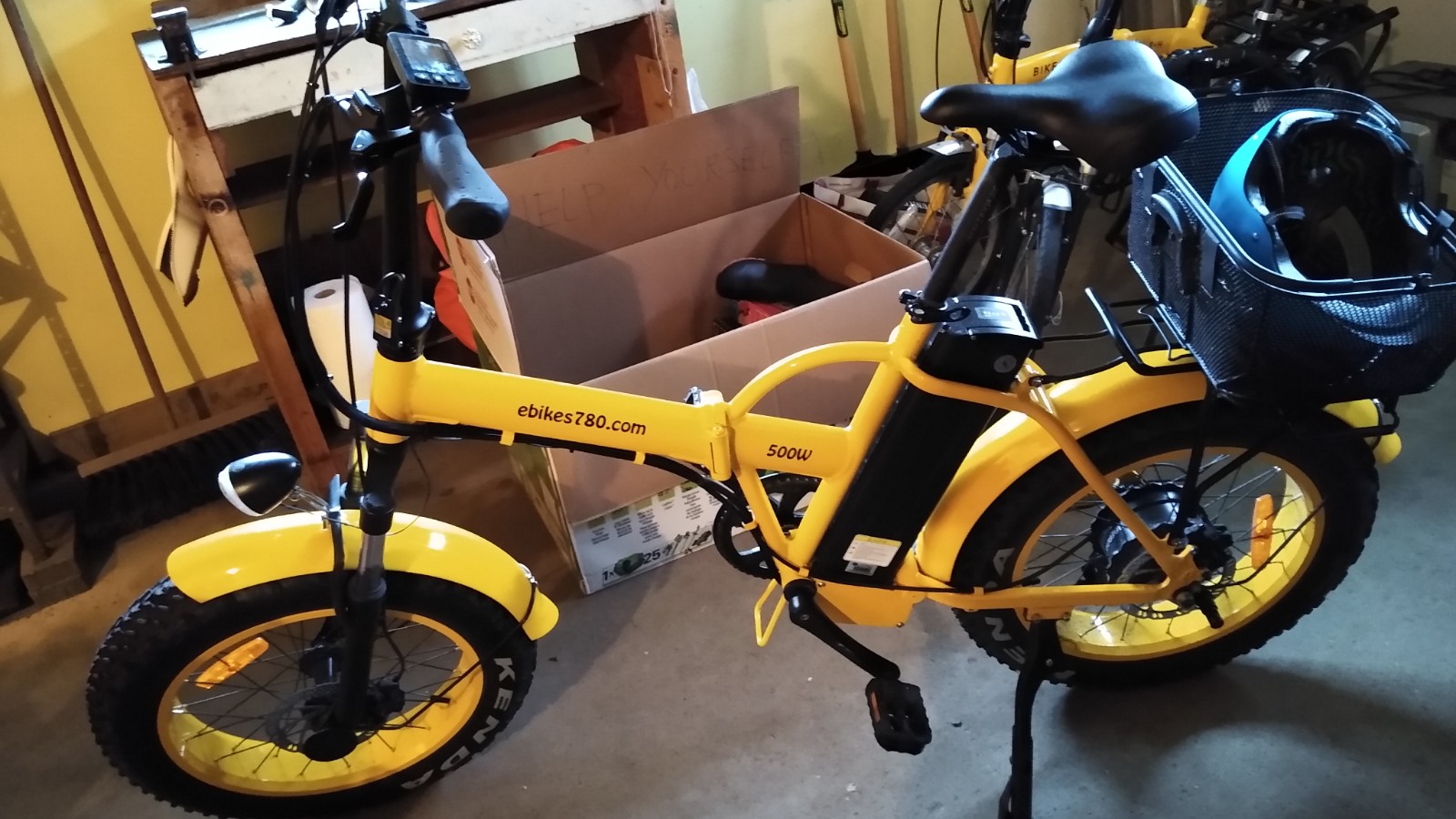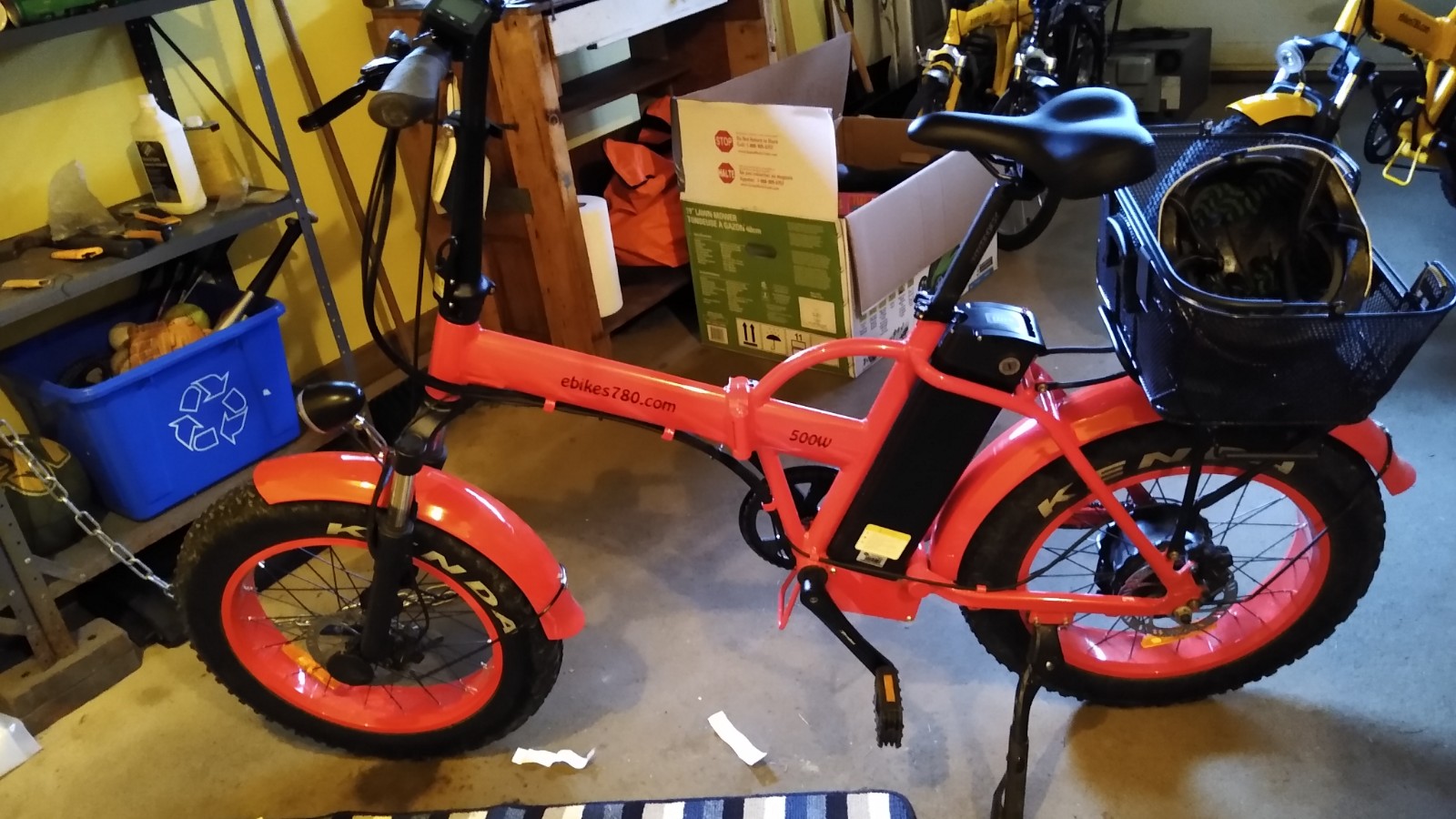 News
[Sep 09, 2019] decals arrived, gear section added
[Sep 08, 2019] added e-bike feature survey
[Sep 03, 2019] 800km driven (in 7 weeks)!
[Aug 31, 2019] added review videos and issues section
[Aug 28, 2019] obtained ebikes780.com and redirected it here
[Aug 25, 2019] added trip log
[Aug 03, 2019] webpage created
Survey
Thinking about riding such an e-bike? Here is a survey that will help us gauge interest and feature preferences. If the total interest of people (within driving distance to Edmonton) reaches 42 bikes, shipping cost per bike is minimized ... for a total less than USD 1250 per bike (see below)!

If you take part in the survey and would like to get notified when above number has been reached, please send us an email to ebikes780@gmail.com
Our bike configuration, pricing, tips
We ordered two fully upgraded bikes with a rear hub motor, long mudguards, rear rack, front suspension, hydraulic disc brakes, 48V21Ah battery, lamps etc., paying USD 857 for each bike, plus USD 310 for freight to Edmonton, and USD 476 for port handling, clearance fees, tax, and duty, which amounts to a total of USD 1250 per bike, which is hundreds of dollars cheaper than e-bikes you can buy locally that have only mechanical disc brakes, half the battery capacity, no fenders, and bland colors!
All in all, the process took 7 weeks: 3.5 for manufacturing the bikes including painting and assembling, and 3.5 weeks for shipping them from Shanghai to Edmonton. The shipping company offered brokerage service for getting the bikes through customs in Vancouver.
Freight cost depends on shipment *volume*. We could have gotten 4 bikes shipped using the minimal allotment of one cubic meter for the same freight cost. So, pooling orders can reduce the price per bike considerably.
Our order was handled by Shirley Huang. Communicating with her was very effective.
The bikes are heavy (~30kg each). This is not suprising given the battery and motor weigh ~5kg each alone, and there are fat tires, mudguards, front suspension, rear rack, and a sturdy construction. We use a foldable ramp to load the bikes into our minivan to avoid lifting them. For that we only have to fold the steering post.
Hydraulic disc brakes are ideal for handling the bikes which pick up speed quickly on long downhill stretches. Just rolling downhill (without motor assistance) I once reached 62 km/h, which was SCARY. Without motor assistance and not much pedaling effort I can reach 22 km/h easily on flat terrain.
I recommend long mudguards - they look NICE and are very useful when it rains during daily commutes. Also, the short ones that are also offered don't seem to be effective.
The range of the e-bikes obviously depends on many variables such as battery capacity, terrain, total weight, average speed, motor assist level, and pedaling effort. After a few trips in the mountains and in the city we - weighing ~72kg - can provide some data points: in regular driving in Edmonton (including the river valley) at level 1 (which is sufficient to deal with mild head winds and small elevations) and ~20km/h average a single charge of our 1kWh batteries lasts 120+ km. In the mountains, ~1/3 battery charge was used each biking up two fire roads: one was 8km long with 950m elevation gain (going up slowly), and the other was 7.5km long with 500m elevation gain (going faster).
Fully charging empty batteries takes ~8h using a 3A charger. To prolong battery life (and speed things up if necessary) we purchased a Luna Cycle's 300W advanced 48V charger which can limit the charging level to 80%, but also allows quicker 5A charging when needed.
We experimented with tire pressure a bit and ended up using 13 psi for the rear tires and 12 psi for the front tires. This is a happy medium for city and trail biking (limiting roll resistance while cushioning bumps and having good traction). Riding fat-tire e-bikes is a blast!
Please send me email (ebikes780@gmail.com) if you have further questions. Requests for test drives in Edmonton are welcome!
Reviews
Here are two videos I found useful which show reviews of a similar e-bike:

Compared to the tested bike we have
twice the usual battery capacity (48V21Ah),
hydraulic disc brakes as opposed to mechanical ones,
a rear light that is also managed by the controller,
long mudguards,
a rear rack,
a slightly different controller,
... and nicer colors ;-)
Issues
[Aug 29, 2019] One of our spare batteries can't be charged beyond 50% anymore :-( I hope this will be the only battery issue we will encounter ... Update [Sep 07, 2019]: after a few off-bike charging/draining cycles that reached only 50.3V (as opposed to 54.6V), I decided to put the battery to the test in a bike. And - strangely - after a few hard accelerations the battery gauge showed 100%! Since then I have used the battery for two full cycles, and it seems to work fine now. I am getting ~130km out of one charge. Phew! Perhaps the BMS needed a kick to balance all battery cells ...
[Aug 28, 2019] Trying to fold the bike for the first time, we noticed that when folded the bike tilts towards the chainring and when set to the ground can warp it. So, if we ever wanted to transport the bikes in folded position we would need to design a support system to prevent chainring damage.
[Jul 24, 2019] The pedal assist system reacts strongly to small pedal movement. Therefore, when standing with feet on the ground, it is important to either press a brake lever (to switch off the motor) or revert to assist level 0 to prevent the bike from "hopping" forward unintentionally.
[Jul 23, 2019] Assembling the front mudguards wasn't as easy as we thought because the angled assembly rods didn't fit 100%. We had to bend them more to fit the mudguards uniformly around the front wheels.
Bike Trip Log
Jul 25-27, 2019: multiple trips to the river valley; one from home to here and here, and back, via here, here, and here (~29km roundtrip, a few ups and downs in the valley, fantastic!)
Jul 28, 2019: Botanical Garden near Devon from southwest Edmonton via Saddleback Road, here, here, here, and here (~50km roundtrip, mostly flat) [pictures]
Jul 29, 2019: Siffleur Falls, starting here and turning right at the junction onto the fire road along the river (~18km roundtrip, mostly flat). Early afternoon, noone else on the trail. Very nice! [pictures]
Jul 29, 2019: Jasper Park Lodge, Annette Lake, Edith Lake, 5th Bridge, 6th Bridge (~17km, mostly flat). Evening - no hikers! [pictures]
Jul 30, 2019: Biking up Pyramid Lake Fire Rd near Jaspser quickly starting at the Pyramid Island parking lot and going to the junction and back (~15km roundtrip, ~500m elevation gain) only drained 1/3 of the battery. Passed some mountain bikers on the way up ;-) [pictures]
Aug 14, 2019: Skyline Trail near Jasper, biking from here to here and hiking up to here to get a spectacular view of Jasper (~16km total biking, ~950m biking elevation gain, ~1/3 battery used, motors didn't warm up much, but the controllers shut down a few times due to them getting hot I suppose. Waiting a few minutes each time and switching the battery off and on solved that problem. The trail is rather steep and we wanted to know how much we could push the motors / electronics. Now we know...) [pictures]
Aug 14, 2019: Berg Lake Trail from here to the Kinney Lake campground (~16km roundtrip, 160m elevation gain, only a few hikers in the evening, spectacular views, some challenging parts which we could easily master with our fat tires and our bikes' walk mode ...) [pictures]
Aug 15, 2019: Kettle-Valley-Railroad track going north starting here (nice bike path on a converted railroad track alongside Coldwater River - crossing it a few times, flat, ~12km roundtrip) [pictures]
Aug 21, 2019: Kettle-Valley-Railroad track going from here to here (best part of the KVR track system: trestle bridges, tunnels, spectacular views - awesome - especially in the late afternoon (only a few hikers and bikers), ~20km roundtrip) [pictures]
Aug 22, 2019: Legacy trail near Banff starting here and going here, here, here and back (~17km roundtrip, ~60m elevation gain, nice views of Banff and surroundings) [pictures]
Sep. 15, 2019: Dawson Bridge to NE Good Earth Coffeehouse and back (on google maps) (~40km roundtrip, mostly flat, but two stair segments we'll avoid next time ...)
Gear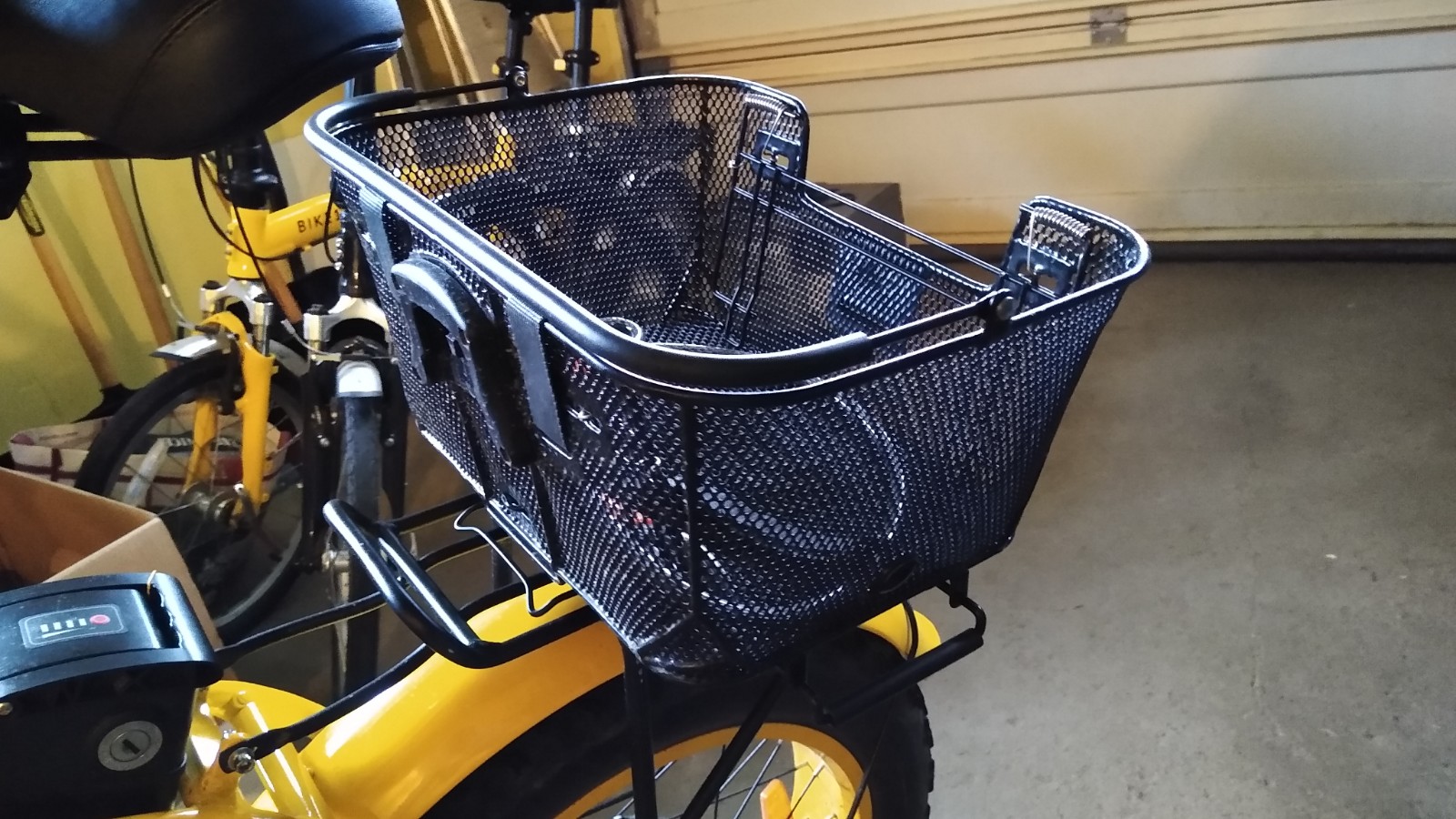 Axiom Pet Basket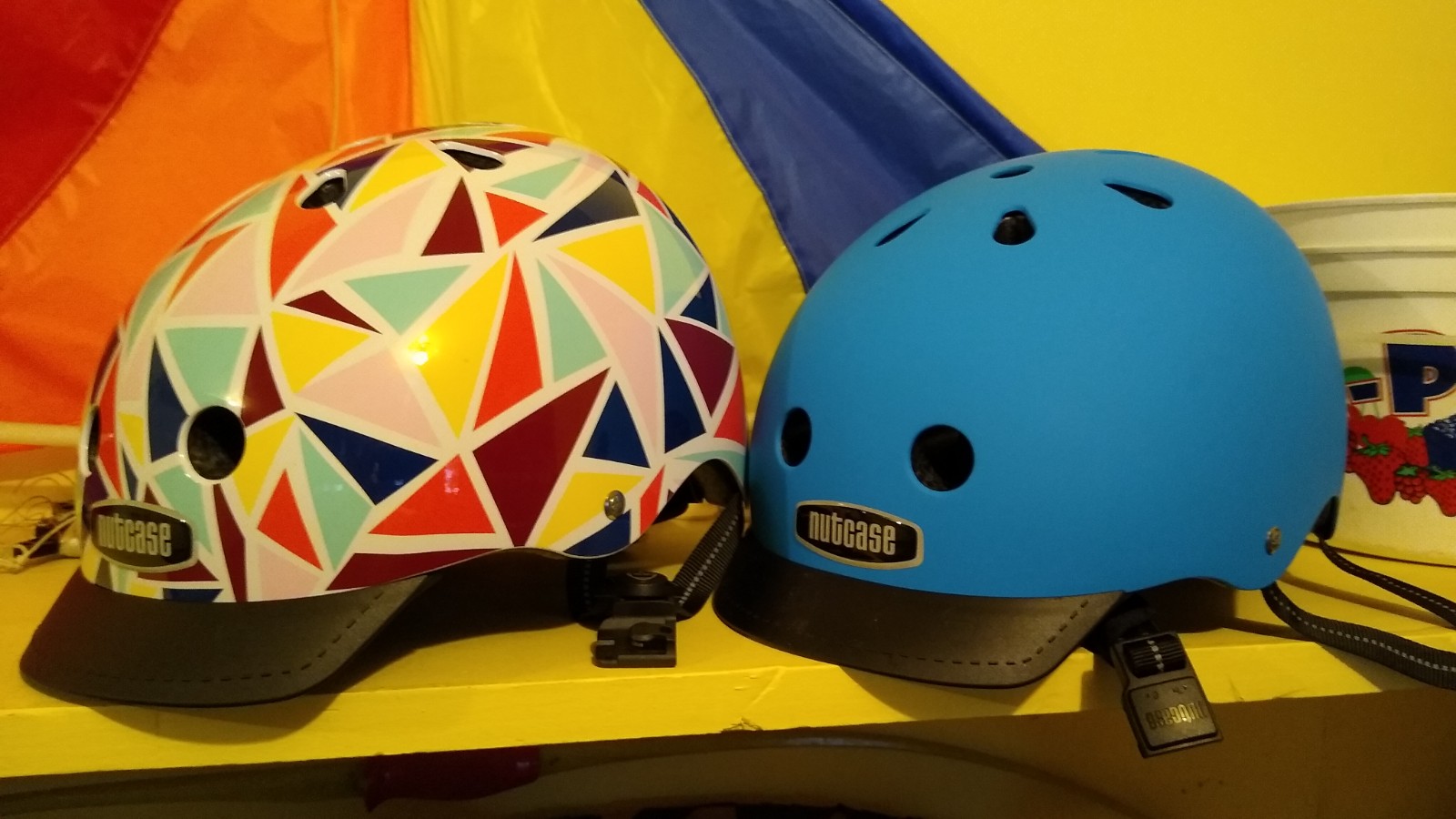 Nutcases 🤪
---
last modified on ; you are visitor #
since Aug/3/2019