Promoting Cool E-Bikes in Edmonton Since 2019
---
Hello! Do you like the idea of riding versatile and good-looking e-bikes, in the city and on trails, transporting them in your car, and not paying ridiculous prices?
Meet the 20-inch-foldable-fat-tire-large-capacity-battery-e-bikes from Changzhou RISTAR Cycle Co. which our business is now selling in Edmonton at a competitive price point. As of March 2021, this is at least $500 lower than competitors' foldable e-bikes that are also equipped with a large capacity battery (48V20Ah) and hydraulic disc brakes. More details below ...
---
Update (Oct-23-2021): Our latest shipment got stuck in Shanghai port due to battery safety regulations. We will try again in 2022, scheduling for the bike batch to arrive in March. It will consist of 4x RSD-507 and 8x RSD-509 (white, red, blue, with front suspension)
Please send us an email if you are interested (ebikes780@gmail.com)
---
The current (2021) price of type RSD-507 (high-step frame with front suspension) and RSD-509 (low-step frame with front suspension NEW!) is $1,809.52+GST = $1,900 total
---
We deliver the e-bikes in Edmonton and are happy to demonstrate their operation
Please contact us at ebikes780@gmail.com if you have questions or want to order such an e-bike
---
Type RSD-507 (high-step, front suspension):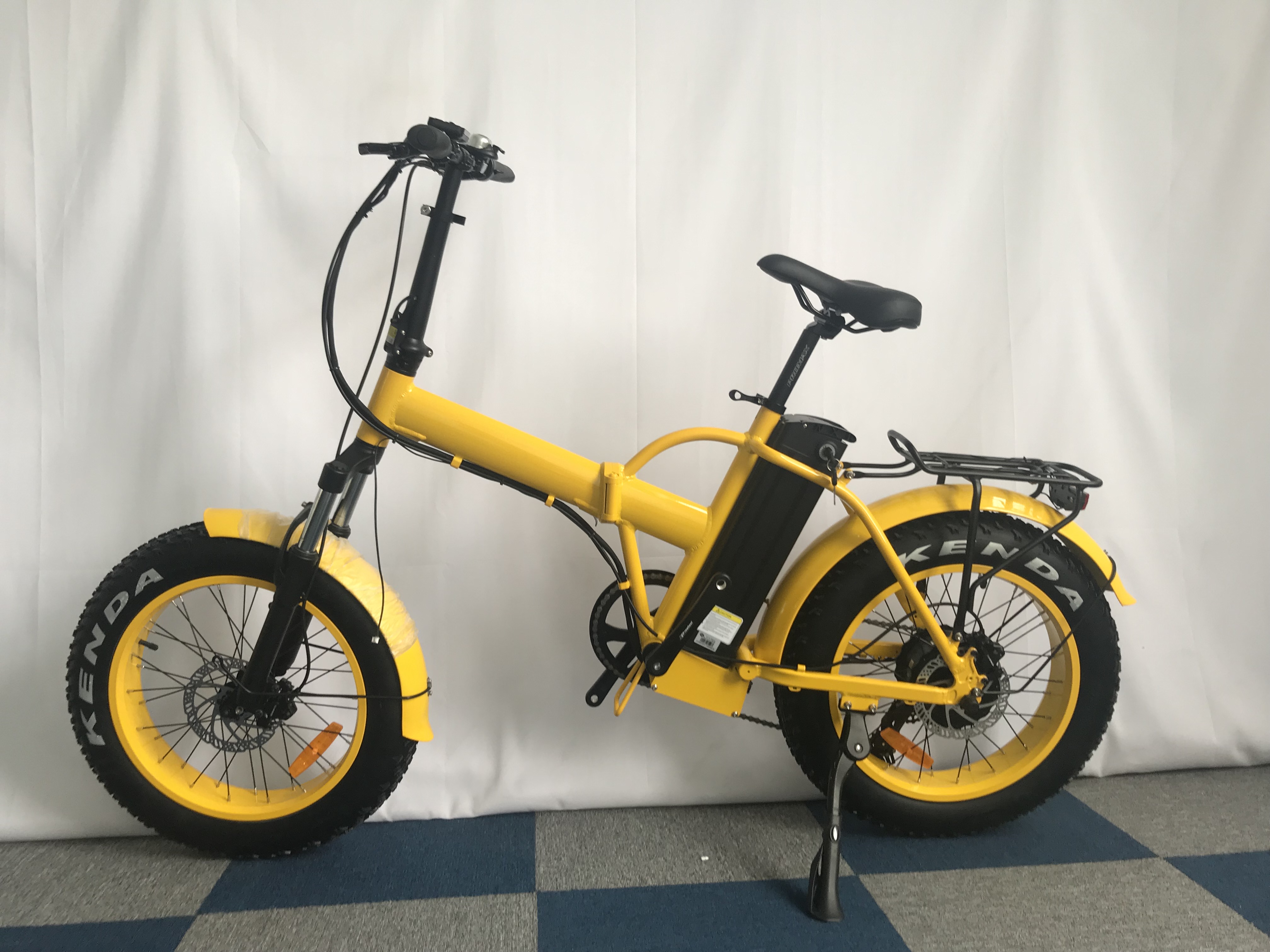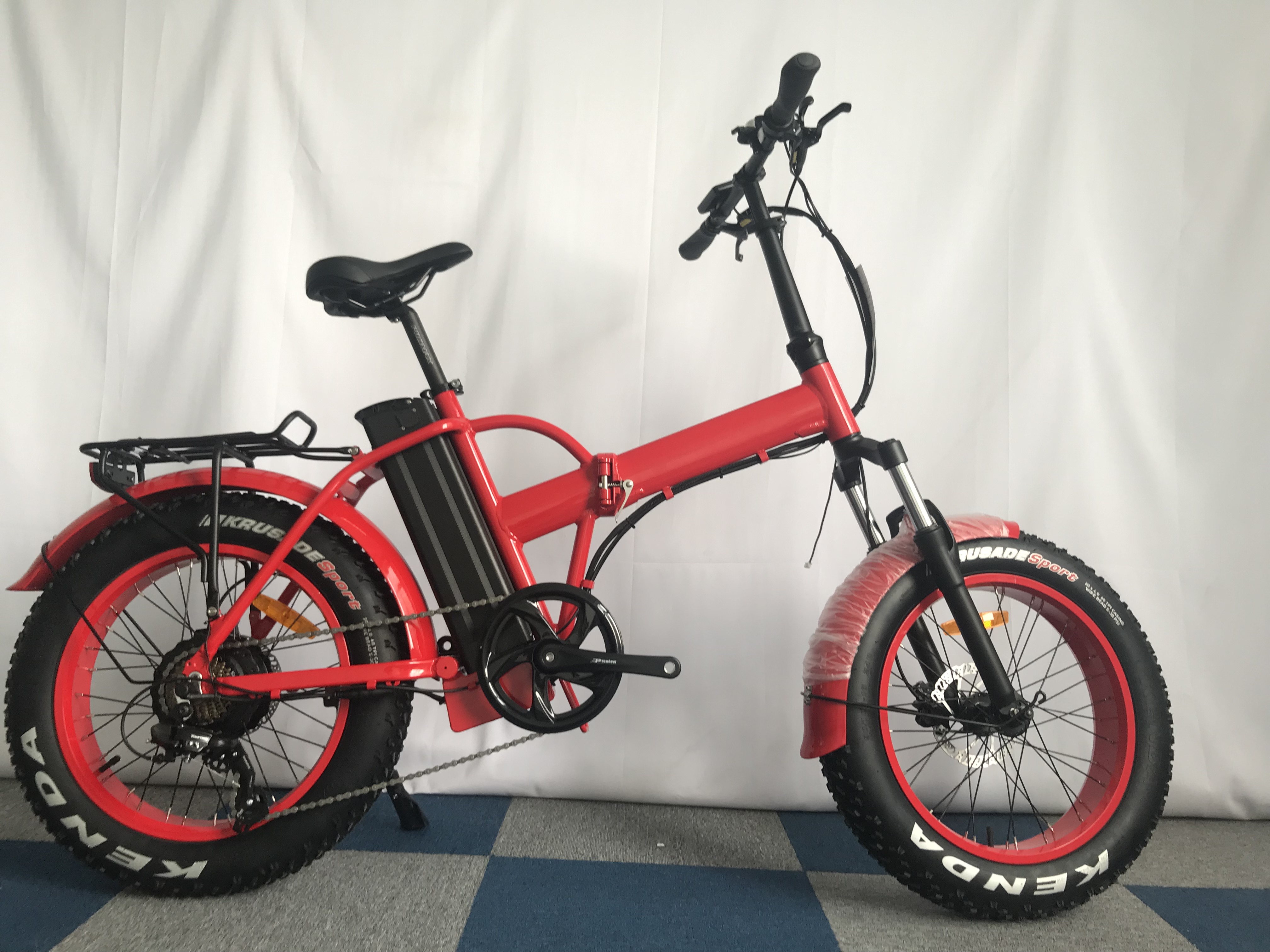 Type RSD-509 (low-step, with front suspension NEW!):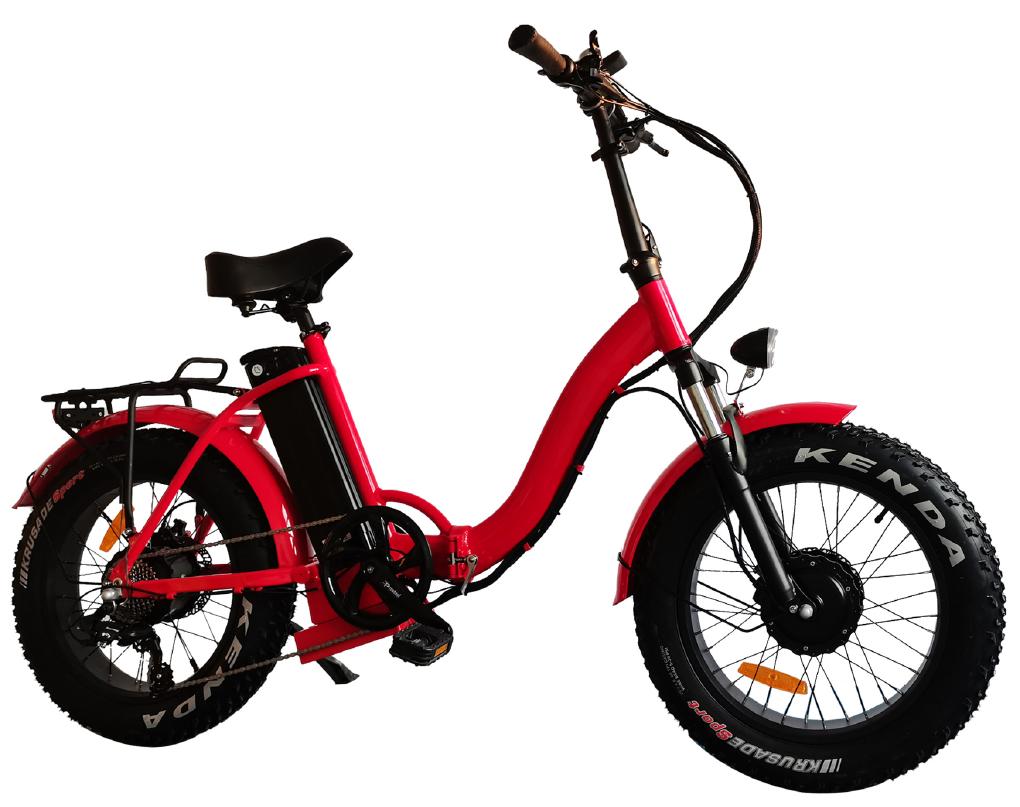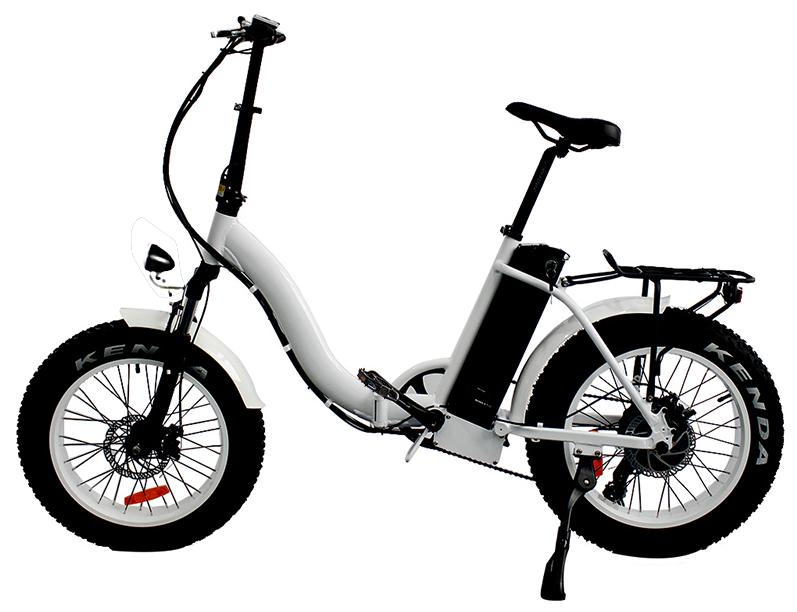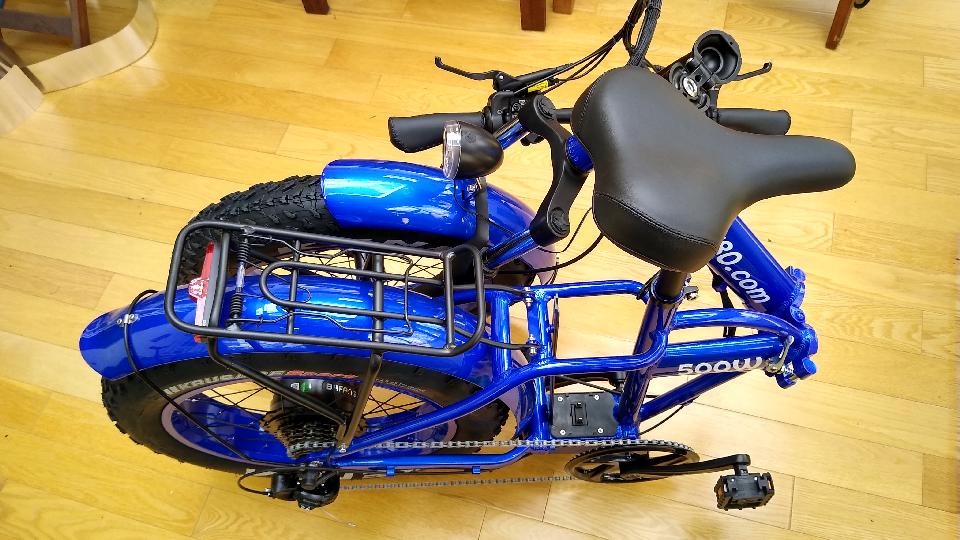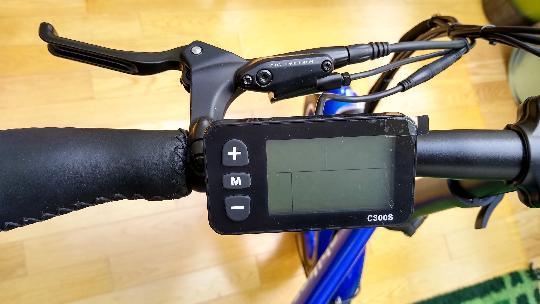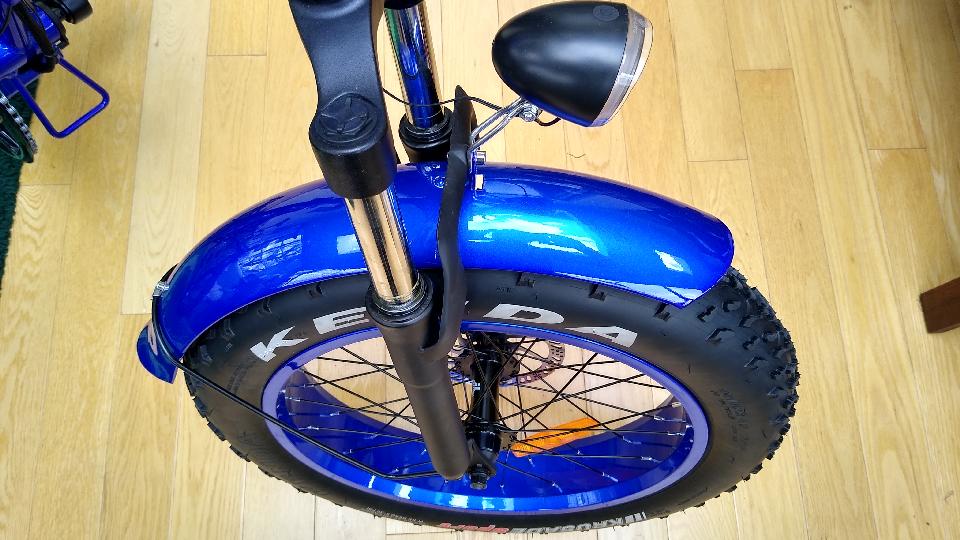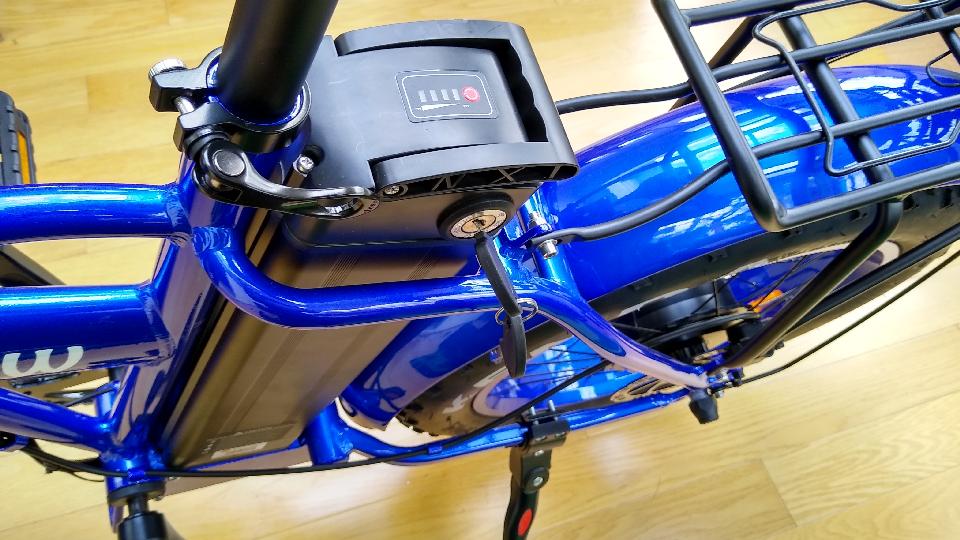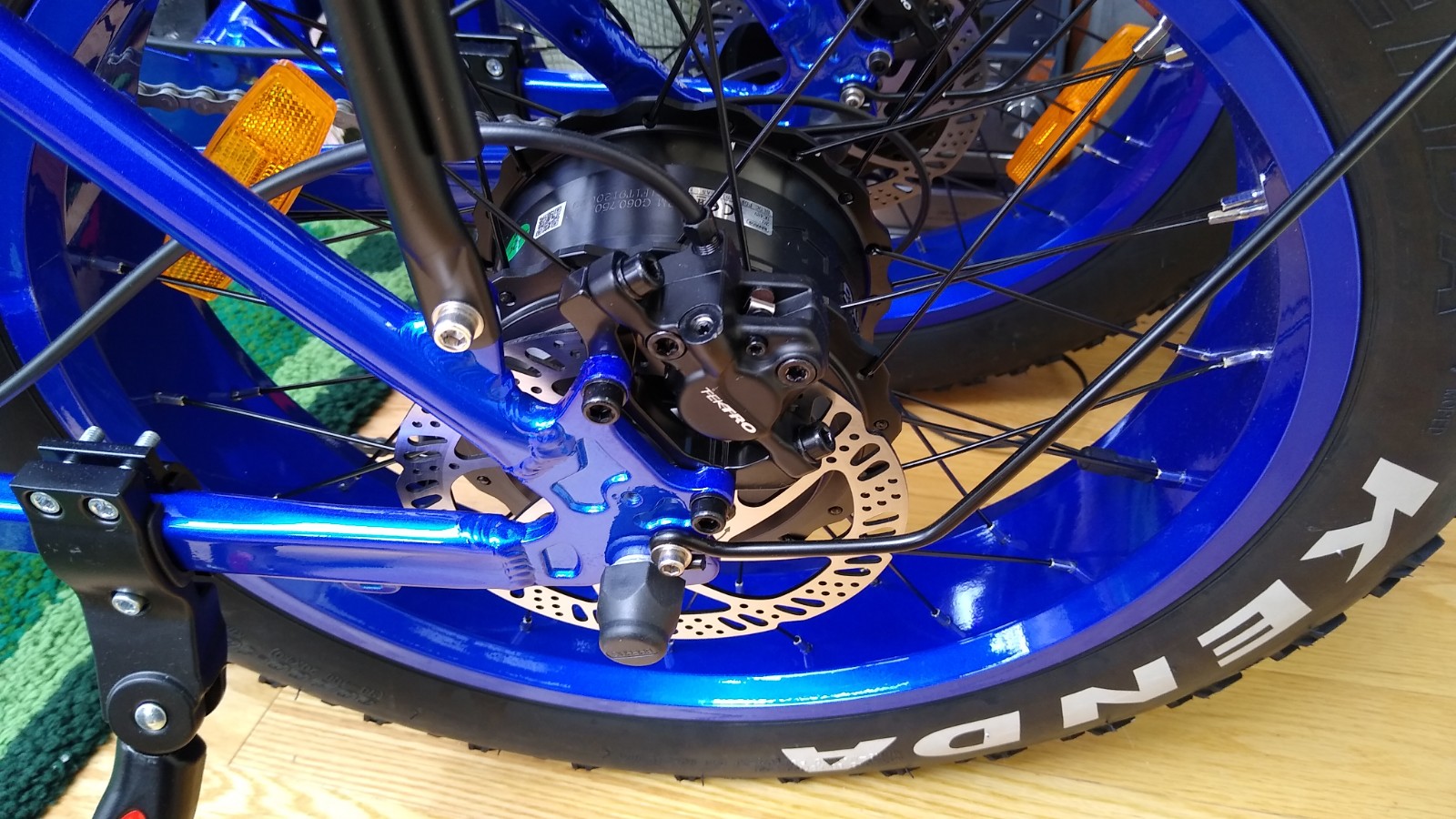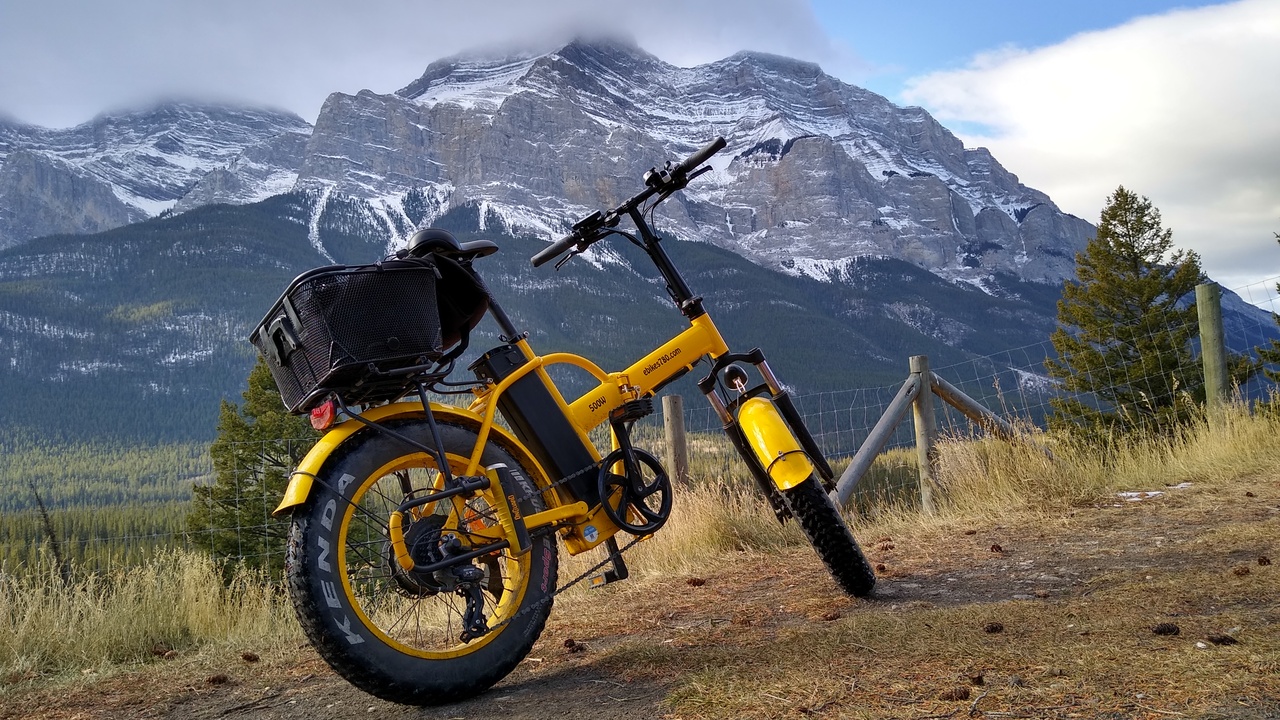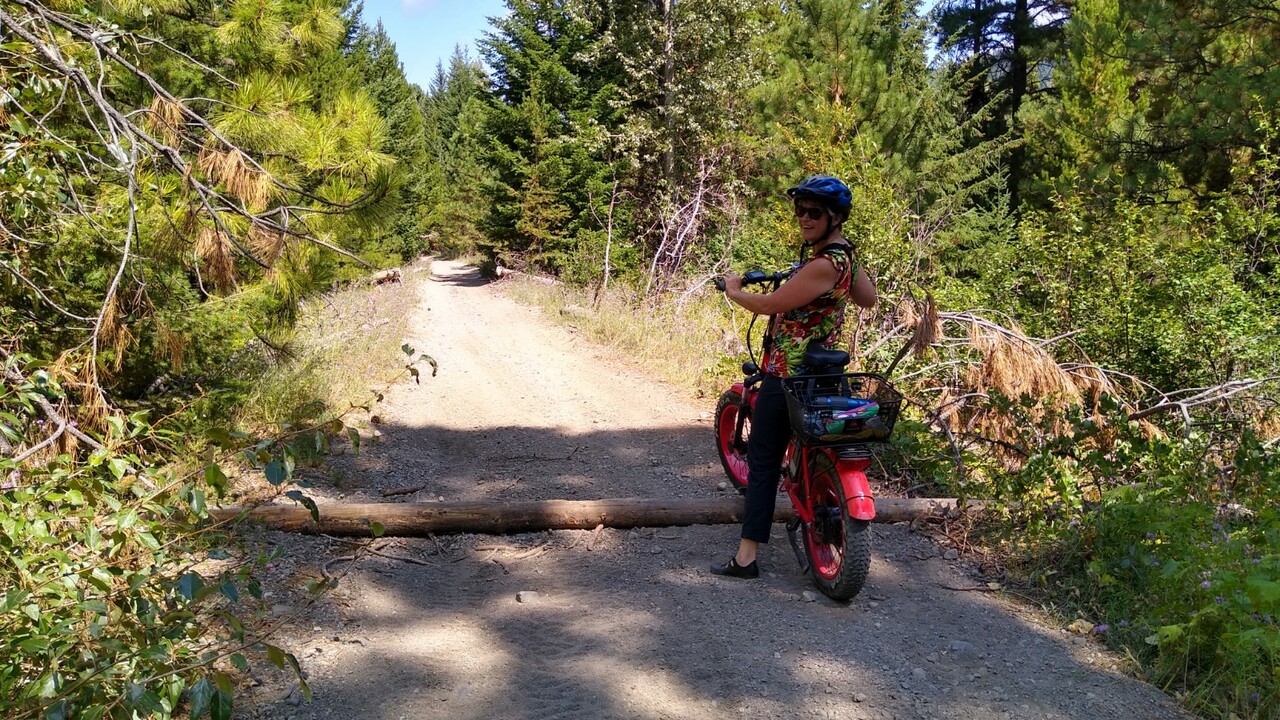 ---
Contents
---
Specifications
| | |
| --- | --- |
| Frame | 6061 alloy, foldable |
| Speed | motor assistance up to 32km/h |
| Front fork | suspension |
| Motor | 48V 500W Bafang geared rear hub motor |
| Controller | 48V 11A/22A, 1:1 pedal assist (PAS) and throttle |
| LCD Display | C300S |
| Battery | 48V 20Ah battery with Samsung lithium ion cells (large capacity!) |
| Range | ~30km with throttle alone, ~110km with PAS level 1 and ~20km/h average (in the city) |
| Charger | 48V 3A, AC 100V-240V |
| Brakes | front/rear: Tektro hydraulic disc brake (MD-M280) |
| Brake lever | aluminum alloy with motor cut-off |
| Tires | 20×4.0 Kenda fat tires |
| Chain | KMC, rust resistant |
| Derailleur | Shimano Tourney 7-speed |
| LED Lights | front+rear, display controlled |
| Other | long painted fenders (matching frame colour), rear rack, bell |
| Weight | ~25kg |
| Dimensions | unfolded: L176cm W28cm, folded: L110cm W56cm H76cm |
| Instructions | manual, derailleur adjustment |
Warranty
3 years on frame
2 years on battery and motor
1.5 years on display, controller and lights
1 year on other components (except those that wear out: tires, inner tubes, chains, sprockets, chainrings, and brake pads)
---
Bike Configuration Choices
Why use hydraulic disc brakes?

Hydraulic, as opposed to mechanical, disc brakes are more effective and (virtually) maintenance-free. They cost a bit more, but improve e-bike riding safety and handling quite a lot. For more details please visit this webpage

Why use large capacity batteries?

The range of e-bikes obviously depends on many variables such as battery capacity, terrain, total weight, average speed, motor assist level, and pedaling effort. After a few trips in the mountains and in the city we - weighing ~75kg - can provide some data points: in regular driving in Edmonton (including the river valley) at level 1 (which is sufficient to deal with mild head winds and small elevations) and ~20km/h average a single charge of our large capacity (48V20Ah ~ 1kWh) batteries lasts 110+ km. In the mountains, ~1/3 battery charge was used, each, when biking up two fire roads: one was 8km long with 950m elevation gain (going up slowly), and the other was 7.5km long with 500m elevation gain (going faster).

Another advantage of large capacity batteries is that they can operate between 20% and 80% charge level, and still give you sufficient range in daily operation. Not fully charging and discharging batteries greatly extends their lifetime (e.g., from estimated 400 full charge cycles before reaching 80% capacity to over 600). Thus, in all likelihood, bigger capacity batteries will not have to be replaced during the lifetime of your e-bike.

Many other e-bike vendors routinely only offer smaller capacity batteries (such as 48V10Ah or 48V14Ah) which restrict the driving range and battery lifetime considerably. And if they offer larger capacity batteries (such as 48V17Ah or 48V20Ah), they are often quite expensive. Ours are not.

Why use long fenders?

Ever drove a bike when it rained or on muddy trails? It can be even less pleasant if your bike doesn't have fenders. So, we opted for equipping our e-bikes with long fenders so that you are not sprinkled with dirt or mud in incliment weather or when driving on trails. As a bonus, our fenders look NICE as their colour matches their frame's.

Many vendors offer no fenders or short ones only, which don't seem to be that effective.

Why foldable e-bikes with fat tires and front suspension?

One word: versatility. Fat tires add a whole new riding dimension. With them you can easily go off-road without endangering high-pressure road tires. And you can operate them at pressures as low as 8 psi to maximize grip and smoothen the ride. And - as you have a motor on board - the increased rolling resistance doesn't matter much. Moreover, front suspension increases riding comfort on rough terrain even further by absorbing bigger bumps. Lastly, foldable bikes can be transported easily.
---
Reviews
From the manufacturer: [ebike tour]

Here are two videos I found useful which show reviews of a similar bike:

Compared to the tested bike we have
twice the usual battery capacity (48V20Ah)
hydraulic disc brakes as opposed to mechanical ones
a rear light that is also managed by the controller
long fenders
a rear rack
a slightly different controller
... and much nicer colours ;-)
---
---
Our E-Bike Trip Log
Sep-13, 2021: 4600/3400km driven in 26 months
Apr-Sep, 2021, some highlights:

Johnston Canyon + Ink Pots, drove to the canyon from Castle Junction
Kayaking on Milk River from Writing-on-Stone Provincial Park to Deerk Creek Bridge, parked the car at the bridge, and ebiked back to the starting point (~8km)
Kayaking on Middle and Lower Lake in Waterton National Park, parked car at (49.111136, -113.840955), and ebiked back to (49.05701988063088, -113.90600170339509)
ebiked up to the Cypress Hills viewpoint from Elkwater and later along Elkwater Lake. Great views!
ebiked the Battle Creek Trail near Fort Walsh
ebiked around Wascana Lake in Regina
ebiked from North Battleford to the Battleford Bridge (can't wait for it to be reopened!)
ebiked in Miquelon Lake Provincial Park
Headwall Lakes in Kananaskis: ebiked the first 4km, then hiked to the lake(s). Great! We only met 2 hikers on the trail
Sunshine Meadows (2x): Gondola closed for the season, ebiked up to the village on Banff Avenue, parked at Rock Isle Lake and then hiked around Grizzly and Larix Lake. Fantastic! We only saw 6 other hikers

Mt. Norquay Scenic Dr - it's still the best in terms of biking downhill (fast, but (almost) no brakes required)
afternoon coffee at Banff Centre, then ebiking to downton (too crowded!), and Vermillion Lakes along the river

Apr-14, 2021: 4000/2800km driven in 21 months
Apr-1, 2021: first bike trip in Edmonton this year: Mill Creek ravine to the river, Rossdale park, Walter Dale bridge, back on 106 St
Jasper in March 2021

Parked our bikes at Maligne Canyon's 5th bridge, drove car to the top, hiked down the canyon trail, and walked on the ice at the bottom. Nice! Driving back with the bikes took 20 minutes
Stayed at Marmot Lodge from where we biked to Jasper centre

Banff in October 2020

Biked up the Mt. Norquay Scenic Dr, which was the best e-biking experience thus far. Not very steep. Great view of Banff. No brakes required on the way back - gliding down. Fantastic!
Maiden voyage of our new inflatable kayak on Vermillion lakes. Great!

Jasper in September 2020

E-biked at the Chikakoo Lake recreation area on the way to Jasper. Nice!
Climbed Pyramid Mountain! Used e-bikes on fireroad (22km return, 1.5h up (800m elevation gain), 45min down, 1/3 battery used) + 3h hike to the top (750m elevation gain) + 2.5h back). Reached our physical limit ... saw two moose, and had a spectacular biking descent - very similar to skiing (using a motor going up, and gravity going down - fast)
Garibaldi Lake: e-biked fireroad (16km return) and hiked 4km to the first lake and back. Great! We never saw that many different kinds of mushroom along a trail
Climbed Signal Mountain! Used e-bikes on fireroad (17km return, 1/2 battery left) + hiked to the lookout and to the top and back. Great view of Jasper and surrounding mountains!

Without the e-bikes we couldn't have done it ...
July 16, 2020: 3200km/2000km driven in one year!
Biking highlights of our recent car trip (Edmonton-Waterton-Nelson-Penticton-Vancouver-Kamloops-Banff-Edmonton):
Some of our favourite local trips:
Jasper in June 2020
May 31, 2020: 2800km / 1650km driven since July 2019
May 28, 2020: Brazeau Dam (~70km roundtrip, 232m up and down, we had to give up and return 3/4 into the planned circle tour due to overly optimistic satellite images ... at one point both of my tires were clogged with mud, google maps) [pictures]
May 5, 2020: 2500km / 1400km driven since July 2019 - finally we've got some nice weather for biking!
Mar 15, 2020: 2250km / 1200km driven since July 2019 - Winter driving with studded front tires works great - I only had to take the bus one week when temperatures hit -30 degrees - salt on the roads doesn't play nicely with the drivetrain, though 😒
Jan 1, 2020: 1900km / 1200km driven since July 2019
Nov 13, 2019: 1600km / 1100km driven since July 2019
Nov 2, 2019: Canmore to Banff (Legacy Trail) and back (~64km roundtrip, 275m up and down, google maps) [pictures]
Sep 15, 2019: Dawson Bridge to NE Good Earth Coffeehouse and back (on google maps) (~39km roundtrip, ~310m up and down, including two stair segments we'll avoid next time ...)
Sep 3, 2019: 800km / 700km driven in 7 weeks
Aug 22, 2019: Legacy trail near Banff starting here and going here, here, here and back (~17km roundtrip, ~60m elevation gain, nice views of Banff and surroundings) [pictures]
Aug 21, 2019: Kettle-Valley-Railroad track going from here to here (best part of the KVR track system: trestle bridges, tunnels, spectacular views - awesome - especially in the late afternoon (only a few hikers and bikers), ~20km roundtrip) [pictures]
Aug 15, 2019: Kettle-Valley-Railroad track going north starting here (nice bike path on a converted railroad track alongside Coldwater River - crossing it a few times, flat, ~12km roundtrip) [pictures]
Aug 14, 2019: Berg Lake Trail from here to the Kinney Lake campground (~16km roundtrip, 160m elevation gain, only a few hikers in the evening, spectacular views, some challenging parts which we could easily master with our fat tires and our bikes' walk mode ...) [pictures]
Aug 14, 2019: Skyline Trail near Jasper, biking from here to here and hiking up to here to get a spectacular view of Jasper (~16km total biking, ~950m biking elevation gain, ~1/3 battery used, motors didn't warm up much, but the controllers shut down a few times due to them getting hot I suppose. Waiting a few minutes each time and switching the battery off and on solved that problem. The trail is rather steep and we wanted to know how much we could push the motors / electronics. Now we know...) [pictures]
Jul 30, 2019: Biking up Pyramid Lake Fire Rd near Jaspser quickly starting at the Pyramid Island parking lot and going to the junction and back (~15km roundtrip, ~500m elevation gain) only drained 1/3 of the battery. Passed some mountain bikers on the way up ;-) [pictures]
Jul 29, 2019: Jasper Park Lodge, Annette Lake, Edith Lake, 5th Bridge, 6th Bridge (~17km, mostly flat). Evening - no hikers! [pictures]
Jul 29, 2019: Siffleur Falls, starting here and turning right at the junction onto the fire road along the river (~18km roundtrip, mostly flat). Early afternoon, noone else on the trail. Very nice! [pictures]
Jul 28, 2019: Botanical Garden near Devon from southwest Edmonton via Saddleback Road, here, here, here, and here (~50km roundtrip, mostly flat) [pictures]
---
Additional Gear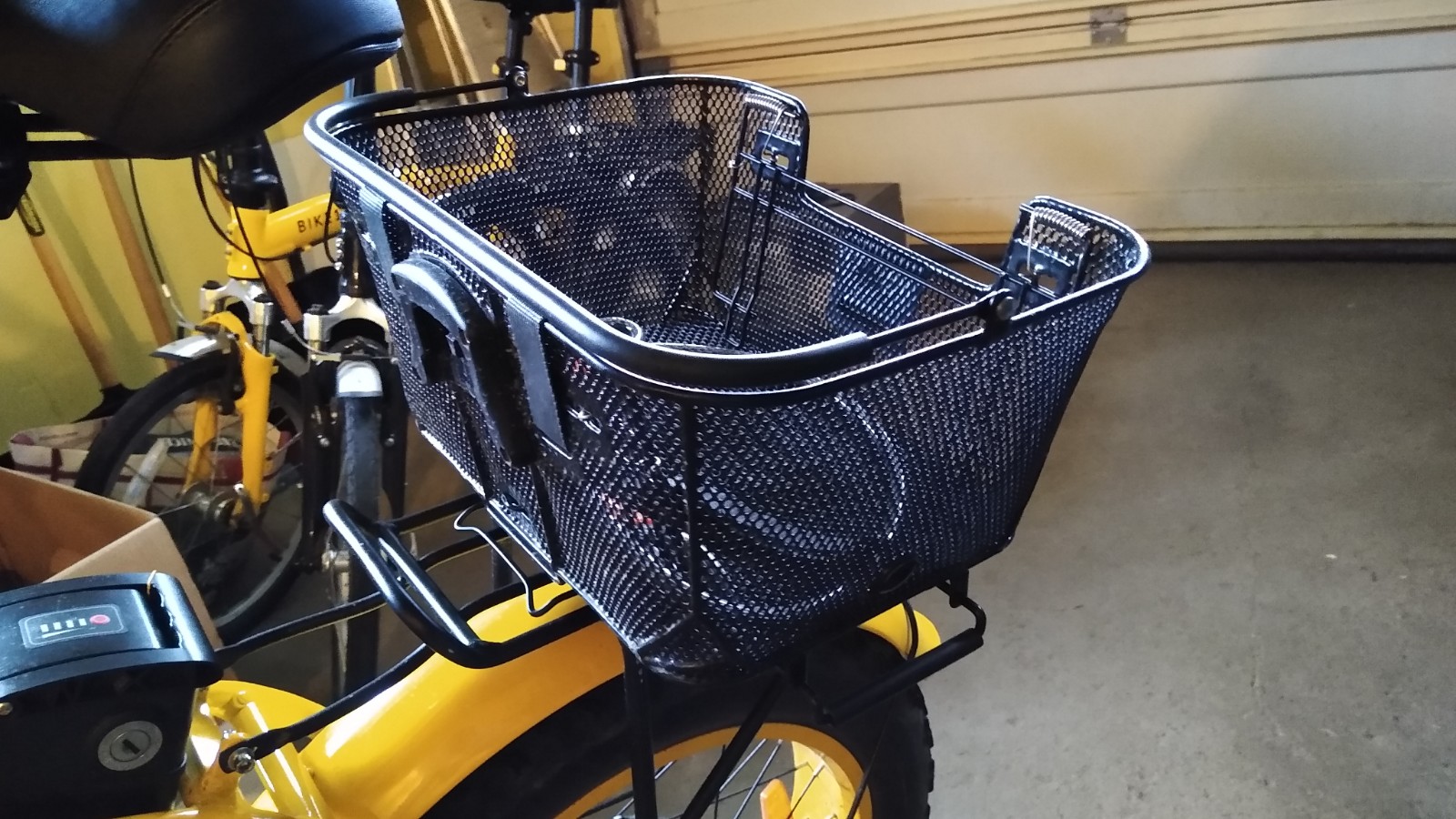 Axiom Pet Basket - Review video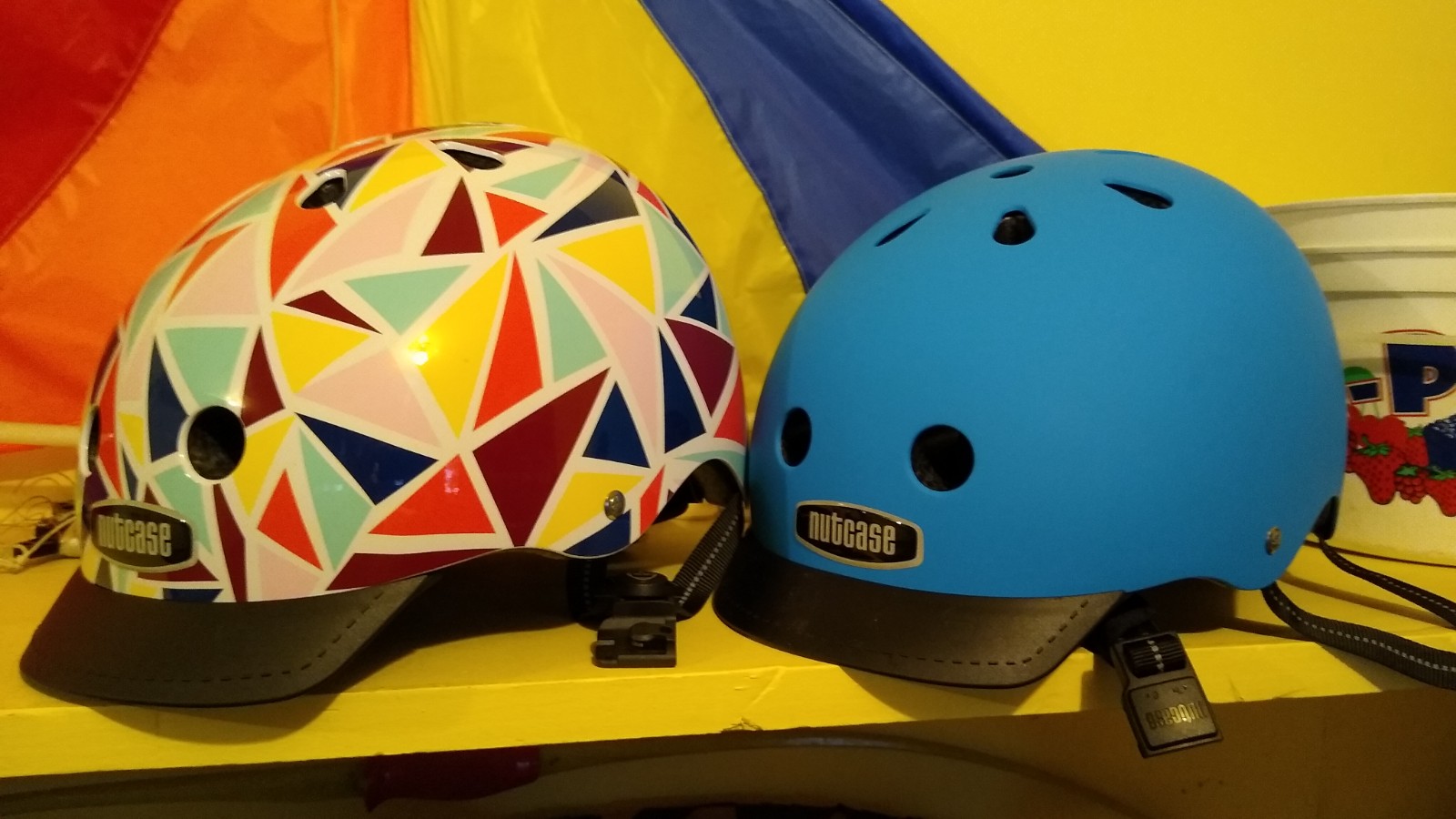 Nutcases 🤪 - Funny review video
---
Change Log
[Sep 13, 2021] trip log update
[Sep 4, 2021] e-bike order update
[Apr 14, 2021] e-bike order update
[Apr 9, 2021] e-bike order update
[Apr 1, 2021] e-bike stock and trip updates
[Mar 17, 2021] e-bike stock update
[Oct 7, 2020] added Banff trip
[Sep 15, 2020] added Jasper trip
[Jul 10, 2020] added Vancouver trip
[Jun 22, 2020] added Jasper trip
[May 28, 2020] added bike trip near Brazeau Dam
[Mar 16, 2020] new bikes arrived
[Dec 6, 2019] done - biked to work the entire term! Studs work great
[Nov 28, 2019] added winter driving section
[Nov 23, 2019] added specs
[Nov 13, 2019] we have a logo now, webpage reorganized
[Sep 09, 2019] decals arrived, gear section added
[Aug 28, 2019] obtained ebikes780.com and redirected it here
[Aug 25, 2019] added trip log
[Aug 03, 2019] webpage created
---
last modified on ; you are visitor #
since Aug/3/2019